the lightstick vision
A prophetic action for 2020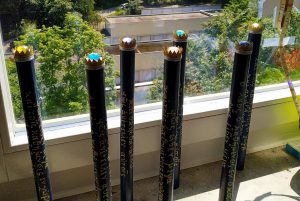 von Mirjam
In October last year my husband Robert preached about the staff of Moses. On this evening, God told me to make handy sticks. So I began to create the "stick of light". The stick is made from wood. A bible verse in Greek language is written on it, in bright letters on dark ground. The verse is from Matthew 4,16: "The people which sat in darkness saw great light; and to them which sat in the region and shadow of death light is sprung up." Each stick has a golden crown and a colored glass stone on its top.

The stick shall bring light to wherever it is used. A friend of ours then brought me 9 wooden rods, so that I could make additional sticks. I had the impression to place all sticks in a circle around a (model) globe. During that time, I saw in the spirit that the sticks are meant to have global influence. God wants to use them against the powers of fear and control, that currently try to spread around the world.
One night I prayed that angels would come, pick up the sticks and bring them to places far away in the universe, where they were charged with godly power.

A few days later I realized that the sticks should indeed travel around the world. The first stick has meanwhile arrived eastwards in Thailand. Number 9 went westwards and is now in Brazil. Number 6 travelled to Austria, in order to start a journey in Europe. Number 5 will next be flying to South Africa. Number 2 is waiting to travel to the US and number 8 is waiting to go to Australia.
The stick can be applied with prayers in strategic places or one can go on a prayer walk with it. God told me to take all of the nine sticks on an uphill walk, nearby our flat. The way is quite steep, leads up to 120 m and has a length of 2 km. The number 120 has a special meaning in this context: It stands for the 120 years of age to which God limited the years of a human life on this earth. This limitation will stay in place until God will cancel it. In a figurative sense, this means that every one of the sticks will fight for immortality.

God told me to go on a walk with different sticks in several places, like for example the former border of Berlin. When walking along the border, I saw that the stick changed into a torch. The torch called on the people of former generations to fulfill their run.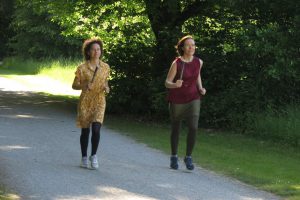 I feel that there is actually a main emphasis to walk or run with the stick. The next step is maybe that different people run or walk with the sticks in different places at same time. God wants to connect people around the globe and by doing so, to also surround the globe and start a global movement. The aim is not to run very fast or to walk a long distance, so even if you are not a runner (yet), God can use you to run a small distance or go on a slow run. God can use the stick while it stands on a table or leans in a window, it is not necessary, that you are permanently in action. While the stick is on the airplane, God can use it to proclaim the gospels to the principalities and powers in heavenly places (Eph. 3,10). So even the journey of the stick itself is important.

Now is the time, where we see how darkness suppresses and binds nations – globally. It is on us to hold up the torch and to proclaim the victory of Jesus – as a church that takes position and influences on a global scale. His light will shine even brighter and will lead nations into freedom and life!
Mirjam
---
Impressions from thailand